No gamepads detected. Press a button on a gamepad to use it.
1 Player Start                              1
2 Players Start                            2
Coin 1                                        5
Coin 2                                        6
Service 1                                    9
Tilt                                             T
P1 Up                                      UP
P1 Down                                 DOWN
P1 Left                                    LEFT
P1 Right                                 RIGHT
P1 Button 1             LCONTROL or Mouse B1
P1 Button 2                 LALT or Mouse B3
Aim Down                    SPACE or Mouse B2
Aim Up                               LSHIFT
Dial Analog                         Mouse X
Dial Analog Dec                    LEFT
Dial Analog Inc                      RIGHT
Track Y Analog                     Mouse Y
Track Y Analog Dec                  UP
Track Y Analog Inc                DOWN
How to play
Each game uses different controls, Games can have combination of mouse,keyboard and Joystick.
Description
The first sequel in the King of Fighters series picks up a year after the end of the first tournament. Once again, fighters from all over the world receive a mysterious invitation to a team-based fighting tournament. And just like last year, it appears that the notorious criminal Rugal Bernstein is behind it, apparently returning from the dead to raise havok once again...
The King of Fighters '95 introduces Kyo Kusanagi's rival Iori Yagami, and firmly places Kyo as the main character for the rest of the series. The gameplay of The King of Fighters '95 is essentially unchanged from the previous title, though it does introduce the "team edit" concept which would remain as a standard feature of the series. Using the "team edit" feature, it is possible to create a totally customized team using any of the available fighters, or use one of the default teams if you wish.
Cheats/Hints/Walkthroughs
No posted cheats for this game yet.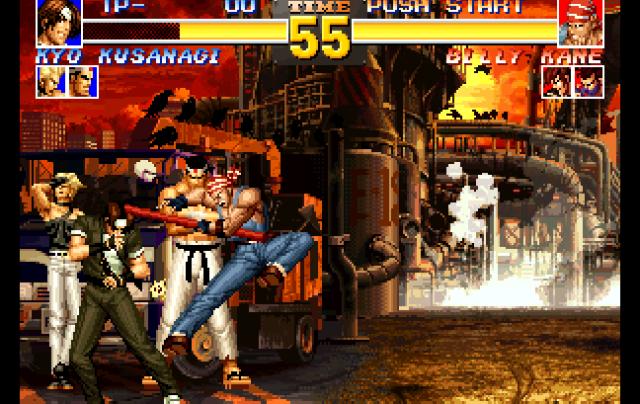 Also known as
"拳皇95" -- Chinese spelling (simplified)
"Nettou The King of Fighters '95" -- Japanese Game Boy title
"KOF '95" -- Informal title
"ザ・キング・オブ・ファイターズ'95" -- Japanese spelling