James Pond 2: Codename: RoboCod
No gamepads detected. Press a button on a gamepad to use it.
How to play James Pond 2: Codename: RoboCod
Each game uses different controls, most Amiga games use both mouse and keyboard.
James Pond 2: Codename: RoboCod Description
James Pond 2: Codename RoboCod is a platform game originally released on the Commodore Amiga in 1991. It was originally released for the Commodore Amiga, DOS and Sega Genesis, from three different publishers.
James Pond 2 is primarily side-scrolling game starring the James Bond spoof hero, James Pond. James Pond,is a walking fish with body armour, who is in a battle with his adversary Dr. Maybe. Dr. Maybe has captured lots of penguins as well as toys. Given the code name RoboCod (a pun on RoboCop), the remaining penguins send James on a mission to rescue the other penguins, retrieve the toys and defeat Dr. Maybe. In the original UK version of the game, the penguins featured as in-game product placement for the McVitie's biscuit company's Penguin Biscuits, making it one of the earliest games to use this form of advertising.
Environment
James starts outside a giant castle that turns out to be Santa's toy factory. There are many doors there, two and two situated next to each other. Each door leads to a stage with many toy-theme levels, 50 in total. Hostile creatures lurk about in these levels, and they come in all thinkable forms. There are no weapons in the game, so James must jump upon them to defeat them. After completing two stages (doors), James goes on to another door where a boss is awaiting.
James can pick up items that provide points. Power-ups include extra lives and wings that grant James the ability to fly. From time to time James may enter a vehicle, namely a car, plane or bath tub
Cheats/Hints/Walkthroughs for James Pond 2: Codename: RoboCod
No posted cheats for this game yet.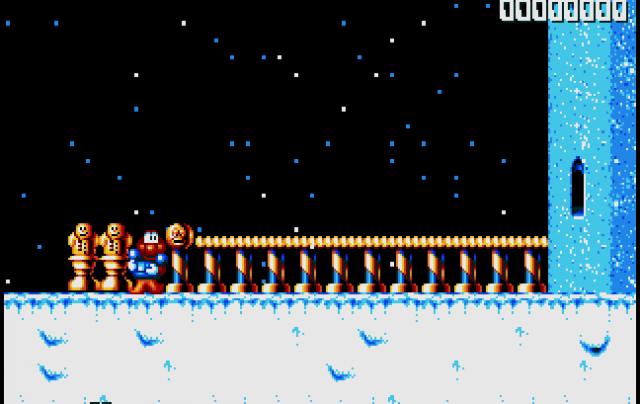 James Pond 2: Codename: RoboCod - additional information
Also known as
"James Pond II: Codename: RoboCod" -- In-game title
"James Pond II" -- Japanese Mega Drive title
"ジェームス ポンドII" -- Japanese Mega Drive spelling