Prince of Persia
No gamepads detected. Plug in and press a button to use it.
Press Keyboard right side: Alt+Enter keys to switch to full screen game play, and Alt+Enter keys to return.
How to play Prince of Persia
↑ Up
Prince hops on the spot.
If there is a ledge above, hold up to jump and climb up the ledge.
If there are some loose slabs above you, hop to touch them and they will fall.
Also used to jump while running forward.
While swordfighting Up is used to block an attack.
↓ Down
Prince will crouch for as long as the button is held.
Used to scale down ledges.
While swordfighting this will put your sword away.
← Left
Prince turns to the left. Prince will run forward for a short distance if tapped;
Prince will run continuously if held.
→ Right
Prince faces the right of the screen. As above, Prince runs forward for a short
distance if button is tapped; Prince runs continuously if button is held.
SHIFT
Action button.
Hold to hang on to ledges, walk slowly, pick up stuff, and fight.
Hold and press Up + Left or Right to make a careful jump.
While jumping, hold Shift to catch the other ledge and hold.
Spacebar
Shows you the amount of time you have left. You only have one hour, remember?
Control+G (DOESN'T WORK IN THIS VERSION)
Saves game. You have to be at least at Level 3 to save. Anything lower and Prince
won't save. Also note that you can only save a game at a time. Any more and your
previous game will be deleted. To back up your game, copy the Prince.sav file into
a different folder, or rename it.
Control+L (DOESN'T WORK IN THIS VERSION)
Loads a saved game. Press this during the intro screen.
Control+R (DOESN'T WORK IN THIS VERSION)
Restarts game; Back to the intro screen
Control+A
Restarts level. This will only reset the current level you are on in case you get
stuck. Note that time will still flow, so if you keep restarting a level for one
hour then it's game over.
Control+S (DOESN'T WORK IN THIS VERSION)
Turns sound ON/OFF, along with the music.
Shift+L (DOESN'T WORK IN THIS VERSION)
Skips a level, but leaves you with 15 minutes of time. There is NO WAY you can
win the game now, as this mode is only for practice. Okay, maybe you can, but
I'm pretty skeptical. I'll keep trying, though... And also note that you can
only skip up to Level 4.
Escape button
Pauses the game. Press again for single-frame movement. Press anything else to resume.
Prince of Persia Description
Prince of Persia (often shortened to "POP") is a platform game, originally developed by Jordan Mechner in 1989. In this game protagonists and enemies fought with swords, not projectile weapons, as was the case in most contemporary games. Play Prince of Persia here on Classic Reload now!
Cheats/Hints/Walkthroughs for Prince of Persia
No posted cheats for this game yet.
How to enable cheats: (I´m on a MAC)
start game
press FN+CTRL+Q to quit to DOS
enter "prince megahit" to start the game from DOS with enabled cheats again
all cheats should work now
shift+L next level
shift+ K Kill opponent
shift + T gain healt
you´re welcome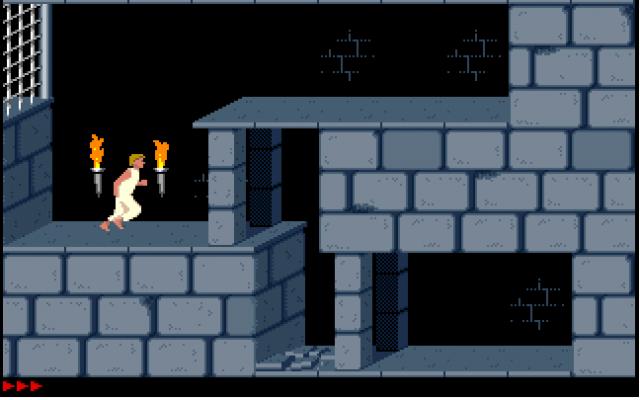 Prince of Persia - additional information