Glider PRO
No gamepads detected. Press a button on a gamepad to use it.
How to play Glider PRO
Each game uses different controls, Games can a combination of mouse,keyboard and Joystick.
Glider PRO Description
In Glider PRO you control a small paper airplane though levels known as houses and collect all the stars in them. It is the sequel to Glider 4 and Glider 3. Glider PRO includes new features including a Two-Player mode, where players compete for prizes, enhancements to the Room Editor including the ability to use custom sounds and artwork, as well as a whole host of new prizes, enemies and locations.
To move through the houses the airplane is told which direction to move in by controls the player configures in the Preferences. The glider must not hit the floor or obstacles including furniture, or you will lose a life. To keep the glider up in the air, blowers are used. These can be turned on or off by switches. The glider can also be kept in the air by candles, but don't get too close!
Prizes which the glider must fly into to collect mainly come in the form of clocks, these will raise your score, as do invisible prizes. Paper will give you another life, Helium will allow you to move the glider in an upward direction and Batteries will allow you to fly through rooms very quickly.
The enemies you will encounter on your adventures include Flying Darts, Balloons, Hot Toast flying out of a Toaster, a fish which jumps out of its bowl, Power Points which have a slight Electrical Problem and Basketballs which simply bounce. Avoid all of these or you will lose a life. Some enemies can be turned off by switches.
The houses included with the original version are:
Demo House: A simple house designed to teach the player how to play the game, it includes one star.
Slumberland: A huge house including just over 400 rooms and 6 stars. The action takes place in a wider variety of rooms, including graveyards and sky walkways.
Castle of The Air a.k.a Castle o' The Air: A castle in the sky, in which the player will fly though dungeons, courtyards and through passages overcome with cobwebs. The house contains 85 rooms and 4 Stars.
The CD-ROM version contains extra houses and tools for house creation, as well as demos for other games by Casady and Greene. The game has since been released as freeware and ported to Mac OS X, but minus the Room Editor and complete preferences.
Cheats/Hints/Walkthroughs for Glider PRO
No posted cheats for this game yet.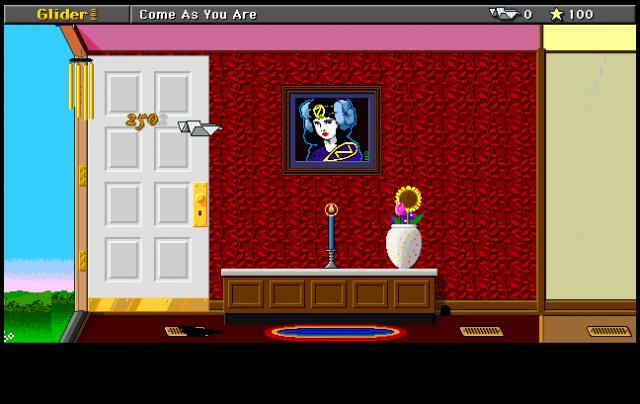 Glider PRO - additional information