Alex Kidd in Miracle World
No gamepads detected. Press a button on a gamepad to use it.
How to play Alex Kidd in Miracle World
Each game uses different controls, most Amiga games use both mouse and keyboard.
Alex Kidd in Miracle World Description
Alex Kidd in Miracle World is the first game in which main character Alex Kidd is making his entry. The game was released in Japan on November 1, 1986 by Sega for the Sega Master System . The game is a platform game and had to compete with Super Mario Bros. . Alex Kidd in Miracle World is considered by many to be the most famous game ever released for the Sega Master System game machine .
Alex Kidd in Miracle World was initially available on a game cartridge . From 1990, the game was built into certain revisions of the Sega Master System, including some US and European versions of the Sega Master System II and some European versions of the Master System I. The later built-in version differs slightly from the original game cartridge version; This can be seen in the map screen between the levels. In the original version, Alex eats a rice ball and in the later version he eats a hamburger . Another big difference is the controls; The original version uses Button 1 to jump and button 2 to hit. Because this combination felt unusual for many, this was reversed in the later version.
lex Kidd is a boy who lives on the planet Aries. For 7 years, he studied Mount Eternal an ancient art called Shellcore. This art makes him so strong that he can hit pieces of stone. One day, when he returned to his homeland, he encountered a dying man who told him that the city of Radactian was in great danger. Before blowing his last breath, he gave Alex a card and a medal made from Zonnesteen.
It soon became clear that Janken the Great, Emperor of the planet Janbarik, is the wicked one. His plan is to take over the beautiful city of Radactian and rule forever. Like any bad leader, Janken has a troupe dedicated followers: Parplin the Pursuer, Chokkina the Sly and Gooseka the Slippery. In addition, he has many animal helpers like birds, sea horses, bats, monkeys, frogs, etc.
To make sure that Janken can not accept the Great Radactian, Alex has the task of traveling through The Miracle World and defeating Janken and his followers.
Cheats/Hints/Walkthroughs for Alex Kidd in Miracle World
No posted cheats for this game yet.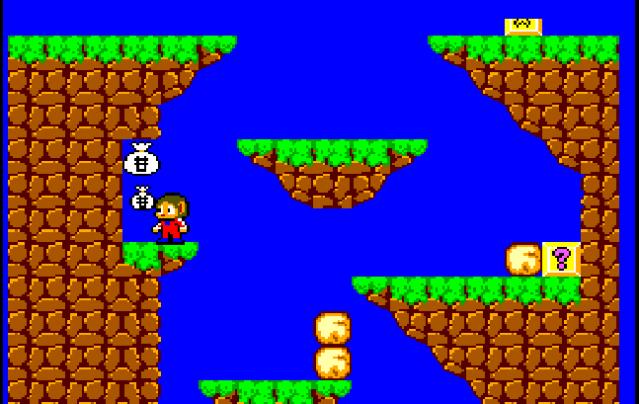 Alex Kidd in Miracle World - additional information
Also known as
"アレックスキッドのミラクルワールド" -- Japanese spelling