Evolution
No gamepads detected. Press a button on a gamepad to use it.
ColecoVision is mapped to use the number keypad on a full keyboard. If you don't have access to a keypad, you can press the TAB key and there is a menu that has options to change settings including remapping the keys. The default key mapping is in the chart bellow:
How to play Evolution
Each game uses different controls, Games can a combination of mouse,keyboard and Joystick.
Evolution Description
Evolution is an arcade style action game with six levels where you need to evolve from an amoeba to a human. Each level is a different stage in evolution with it's own unique goals. The first level is the amoeba stage where you need to eat all the DNA on the screen while avoiding the spores, microbes, and antibodies that are trying to stop you. The second level is the tadpole stage. The tadpole needs to eat three flies to move on to the next stage while avoiding the very hungry fish. Next is the rodent stage, where you need to eat five blocks of cheese while avoiding the snakes. In level four you need to guide a beaver across alligator infested waters to retrieve sticks and build a dam. The fifth level is the gorilla stage, where your gorilla has to use coconuts to fight off monkeys that are trying to steel its orange stash. And finally is the human stage, where you have to use a laser gun to fight off mutants that are trying to take over the earth.
Cheats/Hints/Walkthroughs for Evolution
No posted cheats for this game yet.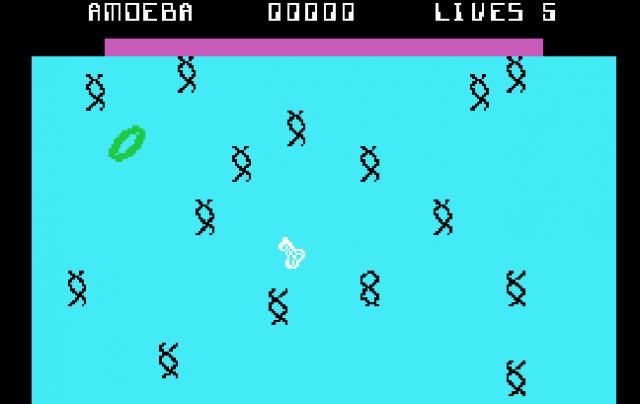 Evolution - additional information
Also known as
"Sydney's Evolution" -- ColecoVision displayed title