F29 Retaliator
No gamepads detected. Press a button on a gamepad to use it.
How to play F29 Retaliator
- RETALIATOR -
PILOT AUTHORISATION
For protection purposes a message will appear on screen giving you a
scenario, a war update number and a mission number. Please insert the sector,
in which this takes place.
ÄÄÄÄÄÄÄÄÄÄÄÄÄÄÄÄÄÄÄ
En ce qui concerne la protection, un message apparaitra … l''cran vous
donnant un sc'nario, une mise … jour d'une Guerre et un numŠro de mission. Vous
devez entrer le secteur dans lequel cela prendra place.
ÄÄÄÄÄÄÄÄÄÄÄÄÄÄÄÄÄÄÄ
Aus Sicherheitsgrnden erscheint auf dem Bildschirm eine Nachricht mit
einen Schauplatz, der Nummer eines Kriegsberichtes und der Nummer einer
Mission. Geben Sie nun bitte den Sektor ein, in dem dies stattfindet.
ÄÄÄÄÄÄÄÄÄÄÄÄÄÄÄÄÄÄÄ
Ai fini della protezione del programma apparir… sullo schermo un
messaggio, che dar… uno scenario ed un numero indicanti la missione e la guerra
in corso in quel momento. Verr… poi richiesto il comando per il settore nel
quale si svolge l'azione.
ÄÄÄÄÄÄÄÄÄÄÄÄÄÄÄÄÄÄÄ
Como sistema de protecci¢n un mensaje aparecer en pantalla, d ndote un
escenario, un n£mero actualizado de guerra y un n£mero de mission. Pon el
sector en el que tiene lugar.
ÄÄÄÄÄÄÄÄÄÄÄÄÄÄÄÄÄÄÄ
FURTHER INFORMATION
"F10" Missile view
Provides full screen missile tracking image.
"F11" or "9" Forward look up view
Allows an internal aerial view around and above the H.U.D.
"F12" or "0" Rear look up view
Allows an internal aerial view around the rear of the plane.
"I" H.U.D colour change
Inverts the H.U.D colour for ease of viewing.
"D" Visual detail adjust
Steps between three levels of detail for different speeds of
computer.
"Q" Sound adjust
Steps between three levels of sound. The current setting of
this and the above two options are saved with Retaliator's
configuration when you quit to DOS.
"A" AUTO Auto pilot
Ensures your plane's wings are level and attempts to maintain
your current speed using the air brakes.
"." Precision control
On slow machines, you may find that joystick and keyboard
control is not precise enough in certain situations. Pressing
the "." key will give you more accurate control of your plane.
This is useful for landing. Press the "." key again to return
to normal control. Retaliator reverts to "normal" control at
the start of each mission.
Shift & F1-F10 Weapon selection
"F1" AIAAM "F6" MAVERICK
"F2" AMRAAM "F7" CSW
"F3" AIM 9R "F8" MRASM
"F4" ASRAAM "F9" ASALM
"F5" BACKWINDER "F10" CANNON
SCREEN SAVE / BOSS MODE
As mentioned in the manual, Pressing "P" during a mission enters pause
mode. When pausing, pressing "P" again will blank the screen. This is useful
for preventing screen burn and when the boss walks in! Press any other key to
continue the mission.
HORIZONTAL SITUATION RADAR
Blue radar blips The object is at a lower altitude than you
White radar blips The object is at a higher altitude than you
EASY LANDIG
If you find the usual method of landing mentioned in the manual
complicated, try using this method:-
Select "Cockpit view" and decrease RPM to between 55 and 60%. Ensure it
doesn't exceed 70%.
Select "Behind plane view" and fly towards the runway at an altitude of
around 4000ft.
Align yourself with the runway in the distance.
Begin a steady descent towards the runway. Repeatedly apply and release
the brakes to maintain a speed of 270 to 300 knots.
Once over the runway, you will be at an altitude of 300 to 400 ft.
Ensure the brakes are on and lower the landing gear before landing.
If for some reason you are flying too fast or too high when you reach
the runway, release the air brakes and continue flying. Turn round and try
again.
KEYBOARD CONTROL
If the extended cursor keys are not compatible on your machine, use the
corresponding keypad keys (2),(4),(6) and (8).
To bank and climb at a faster rate, hold down the 'Ctrl' key with the
required cursor keys. To control banking and climbing more precisely, press the
opposing up/down or left/right keys together.
MOUSE CONTROL
Retaliator supports various bus and serial mice without needing a mouse
driver to be installed. This leaves more memory free for use by the program.
Your mouse may have more than one mode of operation so you may need to
switch modes to enable the mouse to function correctly.
JOYSTICK CONTROL
For balanced joystick control, ensure the trimmers on your stick are
central.
Centralise the stick and press the "J" key during play to select and/or
initialise your joystick.
Joystick buttons can be re-defined in the same way as mouse buttons.
Refer to your manual for more details.
PROBLEMS?
If the program fails to run on your computer, please consult the manual
and check the following.
1. How much free conventional memory do you have? Remove memory resident
programs to make room for Retaliator.
2. Did you install the program correctly using the provided "Install"
utility?
3. Is your computer's video card supported by Retaliator? 100% compatible
EGA, VGA and Tandy 16 colour screens are supported.
HEAD TO HEAD
One point is awarded for each correct target hit. However, one point
will be awarded to your opponent if an incorrect target is hit.
When all required targets have been destroyed, a bonus point is on
offer. This will be given to the first person to touch-down or the person who
survives the longest.
After consultation with USAF representatives, the number of planes
allocated to each trainee pilot during Head To Head combat has been extended to
FIVE.
INTELLIGENCE UPDATE...
Enemy bridge in Europe mission IRON can be found in sector 8E.
F29 Retaliator Description
Pushover is a platform puzzle game developed by Red Rat Software in 1992 for the Amiga, Atari ST, DOS and Super NES. Ocean Software published the game. The game was sponsored by Smiths' British snack Quavers, where the game plot revolved around the Quavers mascot 'Colin Curly' losing his Quavers packets down a giant ant hill (Walkers has since bought the Quavers brand and Colin Curly is no longer used as a mascot). It is then up to the Pushover character 'G.I. Ant', a large soldier ant, to go inside the ant hill and recover the Quavers.
The playing field consists of a number of platforms, interconnected by ladders. Most of the platforms hold dominoes. G.I. Ant can rearrange and move them, by carrying one domino at a time. He is allowed to push one domino, and this single push should result in all of the dominoes falling, which opens the exit to the next level.
There are various factors that can cause a level to not be completed. As well as toppling all of the dominoes in each of the 100 levels, G.I. must be physically able to gain access to the exit door once the dominoes have fallen. If a ledge leading to the exit has been destroyed, or a gap leading to the exit has not been bridged, or if a line of dominoes lie across the exit, G.I. will be unable to reach it.
Each level also has a time limit during which it must be completed. If the time runs out, however, the player is still able to continue playing if they wish to attempt toppling all of the dominoes. By pausing the game once the time has run out, a small hint will be displayed, giving advice on how to complete the level. As a side note, the hint for level 98 informs the player that the game's designer cannot remember how to complete the level.
G.I. may also die by falling from a large height, by falling off the bottom of the screen, or by being crushed under a falling domino. The players is then greeted with the message "You Failed, You Died" and has to restart the level.
The final way a level can be failed is if any dominoes are destroyed, creating rubble. This happens when a domino lands on top of another domino. The level than has to be restarted.
The game features various different areas in which levels are set, including an industrial area, an Aztec temple, a space station, a computer, a Roman building, a castle, a Meccano-themed area, a dungeon, and a Japanese house, all with their own background music. A packet of Colin's Quavers is retrieved every ten levels, making ten packets in all to be collected.
A password system allows the player to continue an earlier game. The player also gains a token upon completing a level. Tokens may be used once a level has been failed, allowing the player to return to the point before the domino push, rather than having to return to the initial state of the level.
Cheats/Hints/Walkthroughs for F29 Retaliator
For your name, enter 'THE DIDYMEN'. Click on the colonel ICON and hit return. -or- Inscribe as CIARAN, and your name will change to OCEAN OK. You'll have full firepower.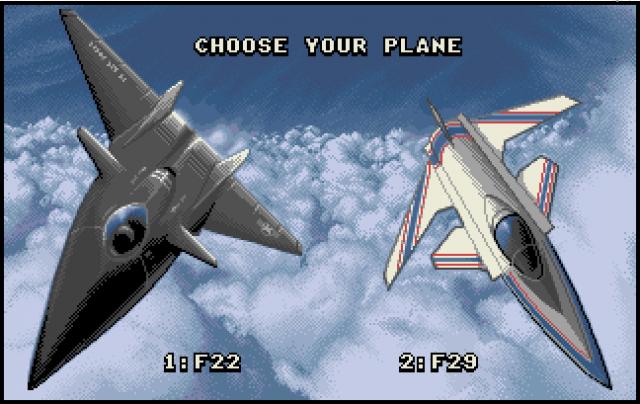 F29 Retaliator - additional information
Also known as
"F-29 Retaliator" -- Media title