Bonanza Bros.
No gamepads detected. Press a button on a gamepad to use it.
How to play Bonanza Bros.
Each game uses different controls, most Amiga games use both mouse and keyboard.
Bonanza Bros. Description
Bonanza Bros. (sometimes written Bonanza Brothers) is a 1990 arcade game by Sega later ported to the Sega Mega Drive/Sega Genesis, Sega Master System, ZX Spectrum, Amstrad CPC, Commodore 64, Commodore Amiga and Atari ST in 1991, as well as included in the Japanese version of Sonic Gems Collection (it was removed in the Western release). It is a platform game where the player has to stealthy move inside a house avoiding guards, retrieve several objects and move to the roof where a blimp is expecting the player with the loot. Two players can play cooperatively at the same time, as the screen is always split in two.
The player can walk, jump, shoot and move behind a column or large furniture, which allows both hiding and dodging shots from the guards, which can't be neutralized definitively, only stunned for a few seconds using the gun or pressing a door against them. They are alerted by sounds or with the Brothers entering their field of vision, and then either hide, call for help or fire against the player. If the player is hit, he drops all objects and loses a life. Some guards have a riot shield and can only be hit when moving away.
While similar in graphics and gameplay, the story changes from the original Japanese to the western versions: in the first the Bonanza brothers are thieves, in the later they are testing the security facilities or helping the police recovering evidence.
Cheats/Hints/Walkthroughs for Bonanza Bros.
No posted cheats for this game yet.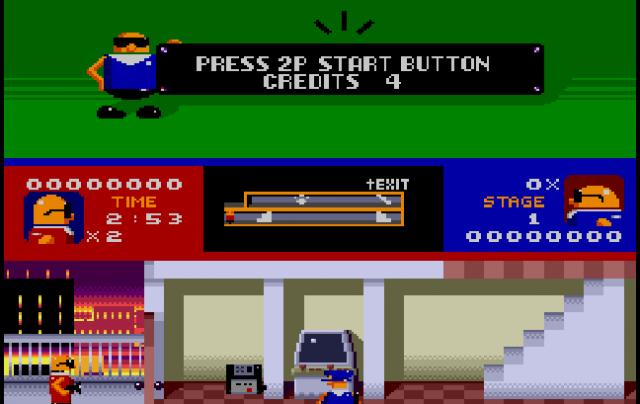 Bonanza Bros. - additional information
Also known as
"ボナンザ ブラザーズ" -- Japanese spelling
"Bonanza Brothers " -- US Genesis title