Rise of the Robots
No gamepads detected. Press a button on a gamepad to use it.
How to play Rise of the Robots
Each game uses different controls, Games can have combination of mouse,keyboard and Joystick.
Rise of the Robots Description
Electrocorp, the world's leading manufacturer and developer of advanced robotics ran the Leader Project to develop a multi-task, ultra-intelligent, self-aware robot to manage every aspect of the factory plant. The end result was the Supervisor Droid, a machine capable of assuming any form and accessing any database. But when an EGO virus infected the Supervisor's self-awareness it started to consider its need above of those of the company, infecting the other robots in the plant and declaring itself their leader. Electrocorp then sent its top-secret ECO32-5 Cyborg to infiltrate the plant and destroy the supervisor.
Rise of the Robots is a versus fighting game. The player controls the ECO32-5 Cyborg and must fight all the other robots in the plant until finally meeting the Supervisor Droid. The controls consist of 3 buttons for punches and 3 buttons for kicks (one for each in the Game Gear version), and jumping, moving, crouching and blocking are performed with the directional pad. The Cyborg has two super moves, the Turbo Head Butt and the Shoulder Barge. The player can choose the difficulty, number of rounds and time limit for the fights, as well as turn turn the super moves off.
The game has three modes: mission, where the player fights each robot in a fixed order; training, where the player can fight any robot in any desired order; and two players versus mode (absent in the Game Gear version), where the second player chooses any of the enemy robots to fight with. It features an AI system that reacts to the player style, 3D rendered cutscenes and the title song was composed by Queen's guitarist Brian May.
Cheats/Hints/Walkthroughs for Rise of the Robots
No posted cheats for this game yet.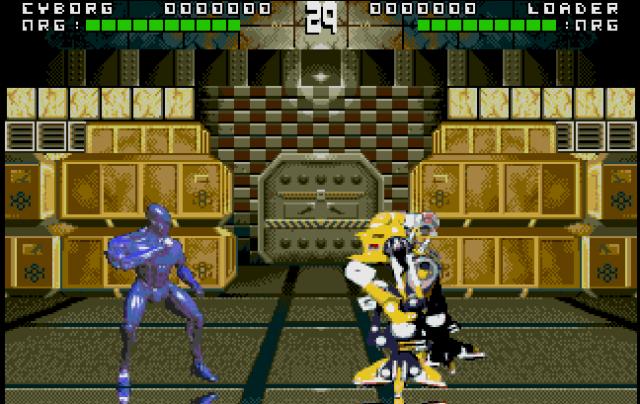 Rise of the Robots - additional information