Rise of the Triad: Dark War
No gamepads detected. Plug in and press a button to use it.
Press Keyboard right side: Alt+Enter keys to switch to full screen game play, and Alt+Enter keys to return.
How to play Rise of the Triad: Dark War
Each game uses different controls, most DOS games use the keyboard arrows. Some will use the mouse.
Rise of the Triad: Dark War Description
A team of special operatives, known as the H.U.N.T. (High-risk United Nations Task-force) is sent to San Nicolas Island to investigate deadly cult activity taking place in an ancient monastery. Their boat, the only way back, is destroyed by patrols, and the team soon learns that the cult plans to systematically destroy nearby Los Angeles. The operatives, now unable to return whence they came, are then left to fight their way into the monastery on the island, and eventually put a stop to the cult's activities.
During its early stages of development, Rise of the Triad was initially meant to serve as the sequel to Wolfenstein 3D, titled Wolfenstein 3D II: Rise of the Triad. The presence of the Walther P-38 pistol, the MP40 sub machinegun, the Bazooka, and the outfits worn by the enemies allude to Nazi Germany and imply the original aforementioned intent for the development of ROTT.
Cheats/Hints/Walkthroughs for Rise of the Triad: Dark War
Cheat Codes
While playing the game, type "dipstick" to activate cheat mode. Then, enter one of the following codes:
Cheat Code Result
chojin God mode
toosad Invincibility
shootme Invincible to bullets
burnme Invincible to fire
goto Level select
goobers Restart level
cartier Full map
huntpack Armor, keys, heatseeker, split missile
\ekg Ultraviolent mode
woof Dog mode
\fun Zoom mode
boing Elastic mode
whack Ouch mode
johnwoo Double pistols
plugem MP40 gun
vanilla Bazooka
hottimes Heat seeker missile gun
booze Drunken missile gun
bones Flame wall gun
firebomb Fire bomb gun
seeya Kill all enemies
flyboy Flight mode
ride Missile-cam view
cujo Toggle missile camera
split Split missile
boing Bounce off everything
goarch Jump to end of level
london Fog on
nodnol Fog off
sixtoys Keys, armor, health
badtrip Magic mushroom mode
speed Auto run
panic Restore yourself to normal
dimon Light diminishing on
dimoff Light diminishing off
86me Suicide
gogates Quit
lungdung Gas mask
gota386 No floor or ceiling textures
gota486 Enable floor and ceiling textures
reen Re-enter level
where Display coordinates
record Record a demo
stop Stop recording a demo
play Play a demo
shineon Lights on
shineoff Lights off
slacker All keys
maestro Game jukebox
kesofdeath Kinetic energy sphere
Read more: http://www.cheatcc.com/pc/riseott.html#ixzz4SAbrVF3u
Under Creative Commons License: Attribution Non-Commercial No Derivatives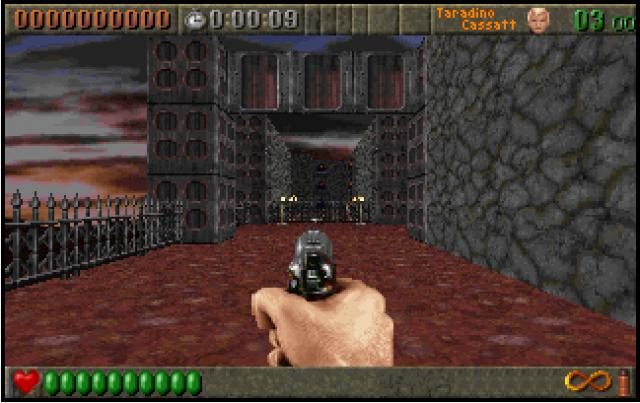 Rise of the Triad: Dark War - additional information