Reelect JFK
No gamepads detected. Press a button on a gamepad to use it.
How to play Reelect JFK
Each game uses different controls, Games can a combination of mouse,keyboard and Joystick.
Reelect JFK Description
On November 22, 1963, President John F. Kennedy was shot down by an assassin's bullet. Since that time, people have wondered how history might have been different if JFK had lived to complete his first term. Would America have gotten more deeply involved in Vietnam? Would the Civil Rights Act of 1964 have been passed? Would he have been reelected to a second term?
Reelect JFK is a first person simulation that puts you in the role of President Kennedy. You have survived the assassination attempt in Dallas, and must continue on your quest for reelection in 1964. Along the way, you will confront key political issues such as Vietnam and the Civil Rights Movement. You will also face the challenge of discovering who was responsible for the attempt on your life. You will play 50 game weeks, which will take you from the assassination attempt in November of 1963 to election day 1964. Your primary objective is to get reelected to a second term.
Cheats/Hints/Walkthroughs for Reelect JFK
No posted cheats for this game yet.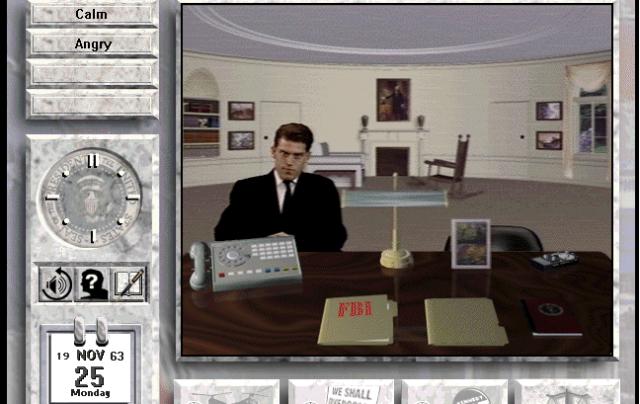 Reelect JFK - additional information