Exile
No gamepads detected. Plug in and press a button to use it.
Ready
If using USB Joystick/Gamepad, you can plug the controller in the USB port once the game is loaded for best results.
How to play Exile
Each game uses different controls, Games can have combination of mouse,keyboard and Joystick.
Exile Description
Exile is a single-player action-adventure computer game originally published for the Acorn Electron and BBC Micro in 1988 by Superior Software and later ported to the Commodore 64, Amiga, CD32 and Atari ST, all published by Audiogenic. Exile's game physics engine qualifies it to be the first game to have a complete Newtonian motion model. At the time of its release it was considered to push the boundaries of what was possible on home computers, particularly on the 8-bit platforms. It remains probably the most complex game available for the BBC Micro. The game was designed and programmed by Peter Irvin (author of Starship Command, a space shoot-em-up with an innovative control system) and Jeremy Smith (author of Thrust, a game based on cave exploration with a simpler physics model).
The player takes the role of Mike Finn, a leading member of a space-exploration organisation called Columbus Force, who have been ordered to the planet Phoebus as part of a rescue mission. Finn is tasked with abetting Commander David Sprake and the surviving crew of the disabled Pericles ship from a psychotic renegade genetic engineer, Triax (the titular Exile), who appears briefly at the very start of the game removing a vital piece of equipment called a Destinator from Mike's ship, the Perseus. As with Elite, a novella (written by Mark Cullen, with input from the game's authors) was included to set up the story, and to provide some clues as to the nature of the planet Phoebus' environment.
The player is tasked with traversing a network of tunnels, collecting and interacting with objects, engaging hostile and friendly creatures, rescuing potential survivors and ultimately defeating Triax and escaping from Phoebus. Finn has a weapons and jet pack system which may be boosted by finding upgrades. Energy cells must must be collected throughout the game to power the weapons and jet pack. Finn has a life-preserving teleport system. When he reaches a point near death he is automatically teleported to a safe location previously designated by the player, or ultimately back to his orbiting spaceship. Consequently, it is still possible to complete the game in many scenarios.
Exile permits some degree of nonlinear gameplay - challenges may be overcome in a number of possible orders and not all events have to be completed. The player is awarded points depending on goals achieved and time taken to complete the game. However, in some scenarios it becomes impossible to complete the game.
A major feature of the game is the large and detailed world it offers for exploration. This is achieved by generating the majority of the caverns and tunnels from a compact but highly tuned pseudorandom process - recreating the same world from the same seed each time - augmented with a few custom-defined areas. This structure is explained through the backstory in which the crew of the Pericles have set up a base in a natural cave system, with Triax having his own base in caves deep below.
The artificial intelligence programming featured innovative routines such as creatures demonstrating awareness of nearby noises, line-of-sight vision through the divaricate caves and tunnels, and memory of where the player was last seen, etc.
Cheats/Hints/Walkthroughs for Exile
No posted cheats for this game yet.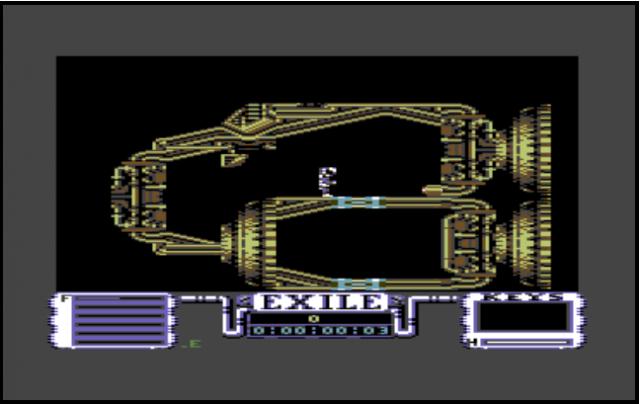 Exile - additional information