Target: Renegade
No gamepads detected. Plug in and press a button to use it.
Ready
If using USB Joystick/Gamepad, you can plug the controller in the USB port once the game is loaded for best results.
How to play Target: Renegade
Each game uses different controls, Games can a combination of mouse,keyboard and Joystick.
Target: Renegade Description
Target: Renegade is a scrolling beat'em up (or flip-screen on certain versions) computer game released on the Amstrad CPC, Commodore 64 and ZX Spectrum systems in the late 1980s by Ocean Software on their "Imagine" label, as well as a Nintendo Entertainment System version published by Taito. The game is a sequel to Renegade and was followed by Renegade 3. When acquiring the license to convert the original arcade game Renegade to home computers, Ocean acquired the option to produce and release their own home-computer-only sequels to the game, and Target Renegade was the first of these sequels.
The game caters for one or two players, providing a "Co-operative Mode" (it was a one-player game on the C64, though), and concerns itself with the adventures of a streetfighter known only as "Renegade", who seeks revenge against a local crime kingpin named "Mr. Big" for murdering his brother Matt. The player wears a white vest and sunglasses, apart from the Spectrum original version, where, due to technical limitations, the player wears a shaded black vest.
The cover of the game portrayed a topless street fighter, clearly well versed in martial arts, performing a flying kick through a window. In keeping with videogame box art and advertising of the era, the character shown in this illustration bears no relation to any character in the game itself. The actual picture is of Martial Arts Legend Joe Lewis from the cover of his book The World's Greatest Fighter Teaches You How To Master Bruce Lee's Fighting System but has been adjusted so as to fit in with the character of Renegade.
Clearly inspired by the success of Double Dragon - Ocean were outbid for the official license - which was in turn pre-figured by the original Renegade arcade game, this side-scrolling "beat 'em up" was recognised at the time for its playability on the ZX Spectrum format. Though a multi-load game on most formats (the game would instruct you to "press play on tape" on completion of a level) the 128k Spectrum version made use of the machine's extra memory and loaded the whole game in one go.
Cheats/Hints/Walkthroughs for Target: Renegade
No posted cheats for this game yet.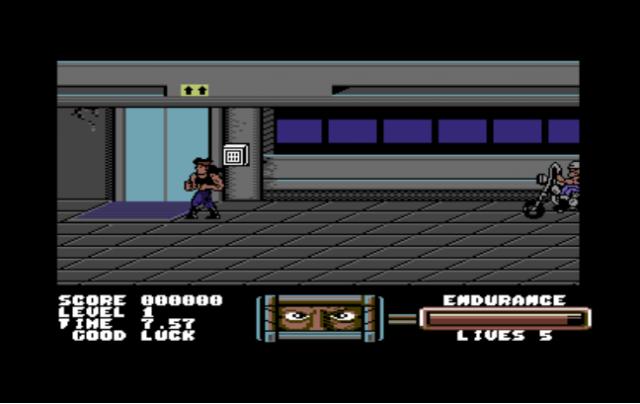 Target: Renegade - additional information