Pepper II
No gamepads detected. Press a button on a gamepad to use it.
ColecoVision is mapped to use the number keypad on a full keyboard. If you don't have access to a keypad, you can press the TAB key and there is a menu that has options to change settings including remapping the keys. The default key mapping is in the chart bellow:
How to play Pepper II
Each game uses different controls, Games can a combination of mouse,keyboard and Joystick.
Pepper II Description
Pepper II is a maze game with zip! The object of Pepper II is simple enough, all you do is zip closed sections of the maze and they will become filled with color. Zip in all the sections of the maze and it's complete. However if you back track you might unzip your path, so be careful! Each stage has four mazes you must complete to move on, but you can move from maze to maze by using the exits located at the top, bottom and sides of the screen. And don't forget about the bad guys trying to take you out all the while. If one touches you you're toast! You can fight back by zipping sections of the maze closed that contain power-ups that will make you invincible for a short time or clear all the screen of the baddies. The game keeps getting harder as you progress to higher stages.
Cheats/Hints/Walkthroughs for Pepper II
No posted cheats for this game yet.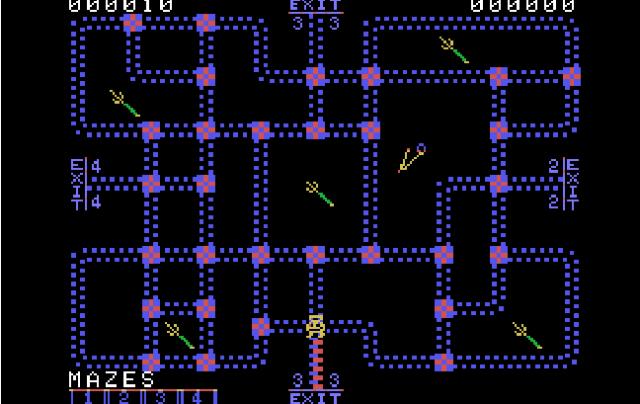 Pepper II - additional information