Space Fury
No gamepads detected. Press a button on a gamepad to use it.
ColecoVision is mapped to use the number keypad on a full keyboard. If you don't have access to a keypad, you can press the TAB key and there is a menu that has options to change settings including remapping the keys. The default key mapping is in the chart bellow:
How to play Space Fury
Each game uses different controls, Games can a combination of mouse,keyboard and Joystick.
Space Fury Description
"So! A creature for my amusement! Prepare for Battle!" These are the words uttered by the alien commander upon starting a game of Space Fury. The gameplay is similiar to Asteroids in that you have one screen of space that wraps back on itself and your ship can only thrust and fire. However, whereas in Asteroids you faced pieces of rock that couldn't give chase, Space Fury instead provides alien vessels that will hunt you down. Each alien vessel starts in 4 pieces at diagonal corners which will try to join together. Shooting any of these pieces before is possible and will make things easier for your player. When one or more pieces reaches the center point, it combines with other pieces there and begins to fire upon and give chase to your vessel. There's only one screen of space, so your tactics are limited. However your vessel is not completely basic. Provided from the beginning are three superstructures, of which you can choose one, that provide additional firepower to your ship.
Cheats/Hints/Walkthroughs for Space Fury
No posted cheats for this game yet.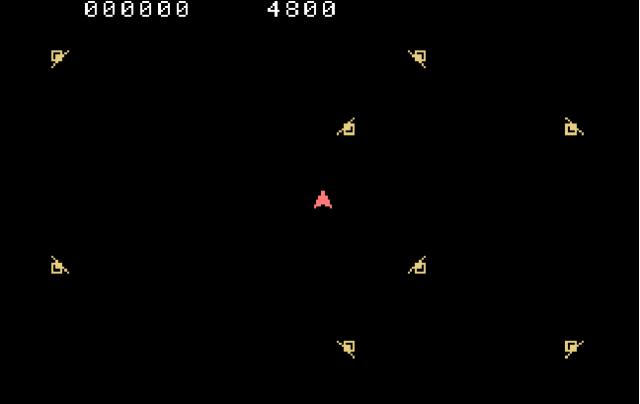 Space Fury - additional information