Mean 18 - with courses move.
No gamepads detected. Press a button on a gamepad to use it.
How to play Mean 18 - with courses move.
Each game uses different controls, Games can a combination of mouse,keyboard and Joystick.
Mean 18 - with courses move. Description
Mean 18 is a golf simulation released in the early years of 16-bit technology. The three-click control system was used, whereby the first click starts the swing, the second sets the power, and the third sets draw or fade.
Apart from the Bush Hill course the game comes with Famous Course Disk Volume I which includes:
St Andrews, Scotland, UK
Pebble Beach, California, USA
Augusta National, Georgia, USA
A unique feature for the day was the Course Architect, which was quite versatile with practice.
Beginner and Expert difficulty options are given - the latter mode has more pronounced draw and fade effects, making the timing of the third click even more crucial. You can also choose between regular and professional tees - in the latter option the distance on the holes is longer, and the computer doesn't choose the best club automatically. Because long drives aren't a crucial aspect of many of the holes, the Beginner/Expert setting is a bigger factor on your likely scoring.
Cheats/Hints/Walkthroughs for Mean 18 - with courses move.
No posted cheats for this game yet.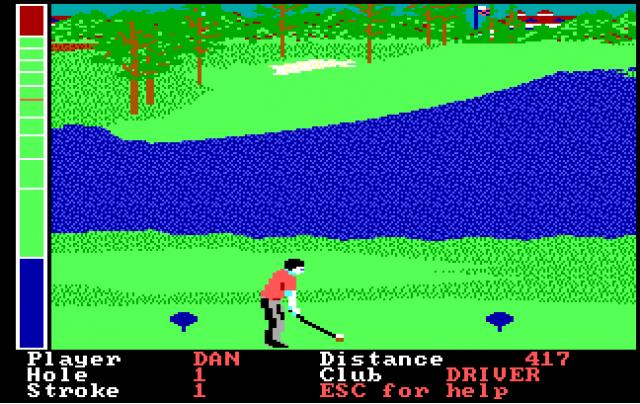 Mean 18 - with courses move. - additional information
Also known as
"Mean 18 Ultimate Golf" -- Atari 7800 alternate title