Microsoft Paintbrush
No gamepads detected. Press a button on a gamepad to use it.
How to play Microsoft Paintbrush
Each game uses different controls, Games can have combination of mouse,keyboard and Joystick.
Microsoft Paintbrush Description
Microsoft Paint (formerly known as Paintbrush for Windows) is a simple graphics "painting" program that comes bundled with all modern versions of Microsoft Windows.
File:Microsoft Paint.gif
MS Paint artwork
The program opens and saves files as Windows bitmap (24-bit, 256 color, 16 color, and monochrome, all with the .bmp extension), JPEG, GIF, PNG, and TIFF. Older versions cannot open or edit GIF, PNG, or TIFF files, and can only open JPEG files with a JPEG filter.
The program can be in color mode and in monochrome mode (in the sense of having no shades of grey). Thus for shades of grey the color mode is used. Alternatively, in monochrome mode, shades of grey simulated by patterns of black dots, in various densities, can be painted.
However, there is no option to convert real grey to this simulated grey. When loading an image with shades of grey, the program automatically goes into color mode.
Microsoft Paint comes with the following options in its Tool Box: Free-Form Select, Select, Eraser/Color Eraser, Fill With Color, Pick Color, Magnifier, Pencil, Brush, Airbrush, Text, Line, Curve, Rectangle, Polygon, Ellipse, and Rounded Rectangle. MS Paint does not have the ability to create color gradients.
The "Image" menu offers the following options: Flip/Rotate, Stretch/Skew, Invert Colors, [Image] Attributes, Clear Image, and Draw Opaque. The "Colors" menu allows the user to Edit Colors (only menu option under Colors). The Edit Colors dialog box shows a 48-color palette and 12 custom color slots that can be edited. Clicking "Define Custom Colors" displays a square version of the color wheel that can select a custom color either with a crosshair cursor (like a "+") , by Hue/Saturation/Luminance, or by Red/Green/Blue values.
The default colors in the Color Box could be described as the following colors: Black, White, Gray, Silver, Garnet red, Red, Gold, Yellow, Dark Green, Green, Dark Teal, Turquoise blue, Indigo, Blue, Purple (violet), Magenta, Old Gold, Lemon Yellow, Slate grey, Kelly green, Dark Carolina blue, Aquamarine, Midnight blue, Periwinkle, Violet-blue, Coral, and Pumpkin orange.
Cheats/Hints/Walkthroughs for Microsoft Paintbrush
No posted cheats for this game yet.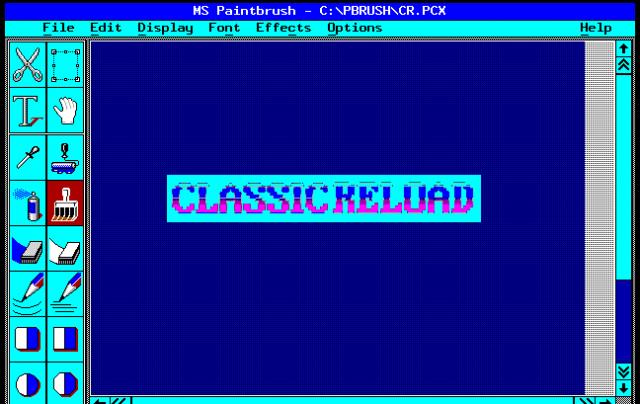 Microsoft Paintbrush - additional information