No gamepads detected. Press a button on a gamepad to use it.
How to play
Each game uses different controls, Games can a combination of mouse,keyboard and Joystick.
Description
Time Gate: Knight's Chase (or just Knight's Chase) is a puzzle-solving game by Infogrames released 1996 for DOS.
The gameplay is similar to the Alone in the Dark series of games. The game uses a modified engine of the first three Alone in the Dark games, featuring Gouraud-shaded, rather than flat shaded, polygons.
Knight's Chase was the first game in a planned trilogy of Time Gate video games.
Out of the mists of time, from the depths of a secret dungeon, the last of the Knights Templar sends a final cry for help...
In 1996, you are William Tibbs, a young American law student in Paris. To save Juliette, your fiancée, you have to take up the challenge from Wolfram, the fox with the red mane who is allied with the forces of darkness. They wait for you in the secret jails of the commanders of the Knights Templar in 1329.
The gameplay in Time Gate is similar to that of Alone in the Dark, involving combat and puzzle-solving. The game uses a modified engine of Alone in the Dark games, with polygonal characters over pre-rendered backgrounds.
Maximum praised the game's mix of swordplay and puzzles, as well as the plot twists, but gave it an overall negative review due to its overt similarity to the Alone in the Dark series, commenting "The Alone in the Dark trilogy are undeniably great games, but after milking the genre dry surely a change of plan is necessary. Obviously not if Time gate is anything to go by, as it's more than just a tribute to the Edward Carnby adventures - it's practically identical." They also stated that the Gouraud-shaded characters look dated compared to texture-mapped characters, and scored the game three out of five stars
Cheats/Hints/Walkthroughs
No posted cheats for this game yet.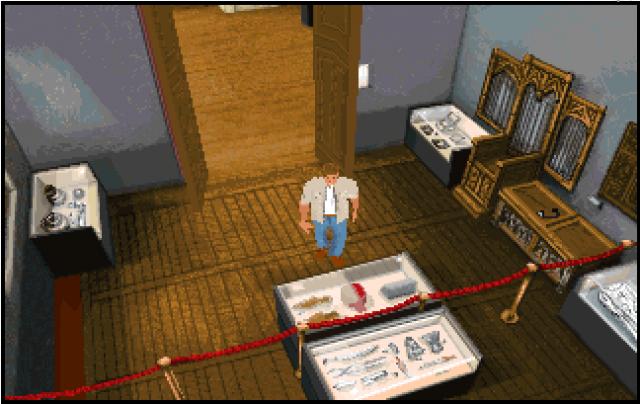 Also known as
"Time Gate: Os Cavaleiros do Tempo" -- Brazilian title
"Time Gate: Le Secret du Templier" -- French title
"Time Gate: El Secreto del Templario" -- Spanish title
"Time Gate: Chapter One - Knight's Chase" -- German title used in advertisement
"Knight's Chase: Das zeitlose Abenteuer" -- German title
"Knight's Chase" -- European title
"Il Segreto dei Templari" -- Italian title