Action 52
No gamepads detected. Press a button on a gamepad to use it.
How to play Action 52
Each game uses different controls, most Amiga games use both mouse and keyboard.
Action 52 Description
Action 52 is an unlicensed multicart consisting of 52 individual and original video games, released in September 1991 for the Nintendo Entertainment System and in May 1993 for the Sega Genesis consoles by Active Enterprises (a Super Nintendo Entertainment System version was advertised in some magazines, but never released). It initially retailed for the comparatively high price of US$199 (or "less than $4 for each game"),and became notorious among gamers for the poor quality of its games. Many video game collectors value Action 52 for its notoriety and rarity.
The cartridge states that it contains 52 "new and original exciting games". The games cover a variety of genres, although the most common are scrolling shooters and platform games. Examples of scrolling shooters include Star Evil, G-Force, Thrusters, and Megalonia. Some of the platform games available are Ooze, Non Human, Alfred N the Fettuc, and Bubblegum Rossie.
The majority of the titles included on the cartridge had major glitches. The games have been known to freeze or crash due to programming flaws, have incomplete and/or endless levels, unresponsive controls, and confusing design.
In the game manual, each title had a one-sentence description. Some titles were described as completely different games and some were incorrectly described or miscategorized.
The Sega version featured a different lineup of games, some with more work put into design and technical issues than the NES version.
The Cheetahmen was the "featured" game on the Action 52 multicart, and there were initial plans for a line of merchandise including action figures, t-shirts, a comic book series and even a television cartoon based on the characters (an advertisement for Cheetahmen action figures, displaying prototype sketches, was included in the aforementioned comic book).[3][4] These plans quickly fell through as negative word-of-mouth and reviews mounted.
Vince Perri of Miami, Florida created Action 52. He showcased the game at the International Winter Consumer Electronics Show. The breakthrough came by accident. "I happened to see my son playing an illegal product made in Taiwan that had 40 games on it. The whole neighborhood went crazy over it," Perri said. "I figured I'd do it legally. It's obvious when you see something like that, you know there's something there." [6]
For the original NES collection, Perri raised $5 million from private backers in Europe and Saudi Arabia. He and Raul Gomila employed several college students to do the programming which was programmed on an Atari ST, and contracted out technical work to Cronos Engineering Inc., a Boca Raton company that had done work for IBM. Action 52 may have originally been designed to include 60 games, as evidenced by eight menu templates present in the ROM, as well as many unused tiles. The extra eight games may have been cut due to the large size of the cartridge (two megabytes), and a probable increased production cost.
The Sega Genesis version, released two years later, was developed by FarSight Studios, who had also developed Color a Dinosaur for the NES. Plans for a Super NES version of the cartridge were announced, but Active Enterprises withdrew from the video game industry shortly thereafter, and no copies are known to exist.
1. Go Bonkers
2. Darksyne
3. Dyno Tennis
4. Ooze
5. Star Ball
6. Sidewinder
7. Daytona
8. 15 Puzzle
9. Sketch
10. Star Duel
11. Haunted Hills
12. Alfredo
13. The Cheetahmen
14. Skirmish
15. Depth Charge
16. Minds Eye
17. Alien Attack
18. Billy Bob
19. Sharks
20. Knockout
21. Intruder
22. Echo
23. Freeway
24. Mousetrap
25. Ninja
26. Slalom
27. Dauntless
28. Force One
29. Spidey
30. Appleseed
31. Skater
32. Sunday Drive
33. Star Evil
34. Air Command
35. Shootout
36. Bombs Away
37. Speedboat
38. Dedant
39. G Fighter
40. Man At Arms
41. Norman
42. Armor Battle
43. Magic Bean
44. Apache
45. Paratrooper
46. Sky Avenger
47. Sharpshooter
48. Meteor
49. Black Hole
50. The Boss
51. First Video Game (Pong)
52. Challenge (the most difficult levels of each previous game)
Cheats/Hints/Walkthroughs for Action 52
No posted cheats for this game yet.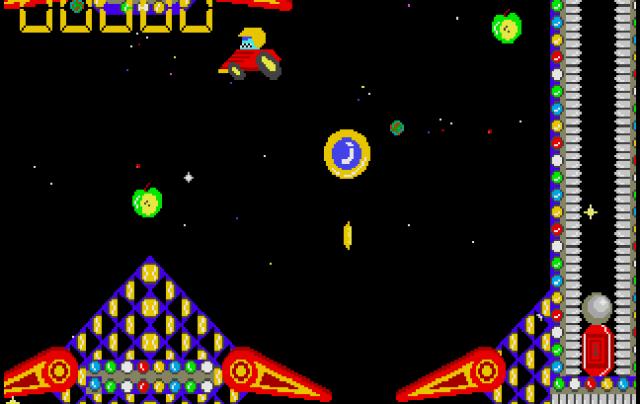 Action 52 - additional information
Also known as
"A52" -- Abbreviated title