Double Dragon V: The Shadow Falls
No gamepads detected. Press a button on a gamepad to use it.
How to play Double Dragon V: The Shadow Falls
Each game uses different controls, most Amiga games use both mouse and keyboard.
Double Dragon V: The Shadow Falls Description
Double Dragon V: The Shadow Falls is a 1994 American-produced sequel to Technos Japan's Double Dragon series. Unlike the previously produced Double Dragon games, Technos had little or no credited involvement in the development of the game outside of licensing the series' name to publisher Tradewest (the publisher of the first Double Dragon and Super Double Dragon). The game was actually developed by Leland Interactive Media, a subsidiary of Tradewest. Unlike the previous games, which were side-scrolling beat-em-ups, Shadow Falls is a competitive Street Fighter II-style fighting game based closely on the Double Dragon animated TV series and set in the same universe. Ironically, Technos would later produce their own fighting game based on the series the following year (see Double Dragon (Neo Geo)). Double Dragon V was originally released for the Super NES and Sega Genesis and later ported to the Atari Jaguar by Telegames in 1995.
Billy and Jimmy Lee must stop the vile Shadow Master from spreading a deadly virus that threatens the citizens of Metro City and the world. The brothers first must face the Shadow Master's Shadow Warriors who stand in their way or reaching the villain's Shadow Dojo.
The games followed the typical 8-way directional pad/stick with 6-button layout common to most fighting games at the time comprising of weak, medium and strong punches and kicks. Players of the Mega Drive/Genesis version were forced to use of the standard 3-button controller using the select butto to switch between punches and kicks or purchase a 6-button controller. Like many 2D fighting games, the Shadow Falls' characters had several special moves. The characters also had finishing moves called Overkills where instead of one character killing another with their own finishing move, the loosing character has their own unique death scene when they are defeated.
Cheats/Hints/Walkthroughs for Double Dragon V: The Shadow Falls
No posted cheats for this game yet.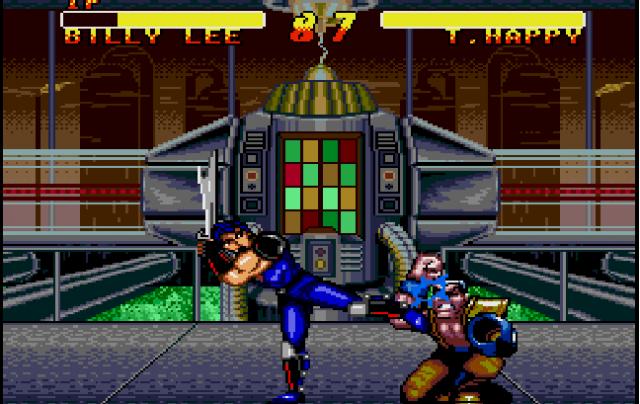 Double Dragon V: The Shadow Falls - additional information