NBA Jam Tournament Edition
No gamepads detected. Press a button on a gamepad to use it.
How to play NBA Jam Tournament Edition
Each game uses different controls, most Amiga games use both mouse and keyboard.
NBA Jam Tournament Edition Description
NBA Jam Tournament Edition (commonly referred to as NBA Jam T.E.), featured updated rosters and more new features and easter eggs combined with the same gameplay of the original. The NBA Jam games were also ported to many video game consoles and the PC, beginning with the original's debut on the highly-publicized Jam Day (March 4, 1994). Console versions were well known for featuring tons of easter eggs; the home versions of Jam T.E. even allowed the player to use then-President Bill Clinton, then-First Lady Hillary Clinton, or then-Vice President Al Gore (not to mention Atari's Vice President of Software Development Leonard Tramiel on the Atari Jaguar version). Acclaim published the console versions, and later ended up winning the exclusive rights to use the NBA Jam name. Acclaim used the name on NBA Jam Extreme in 1996, a 3D version of Jam which featured Marv Albert doing commentary. Some of the most famous and repeated sayings of that year came from Albert saying, "Razzle Dazzle", "BOOM-SHAKALAKA", "Kaboom", "From Downtown", "Jams it!", and "He's on Fire!". The game was a flop, in comparison to Midway's version released that same year, rechristened NBA Hangtime, a game which featured a create-a-player and a usual batch of new features combined with a classic, but improved, NBA Jam feeling. An update called NBA Maximum Hangtime was subsequently released.
Cheats/Hints/Walkthroughs for NBA Jam Tournament Edition
No posted cheats for this game yet.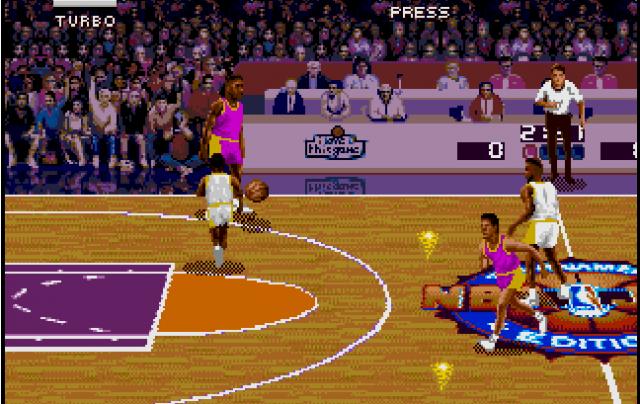 NBA Jam Tournament Edition - additional information
Also known as
"NBA Jam TE" -- Informal Name
"NBA JAMトーナメントエディション" -- Japanese Spelling