Ultimate Mortal Kombat 3
No gamepads detected. Press a button on a gamepad to use it.
How to play Ultimate Mortal Kombat 3
Each game uses different controls, most Amiga games use both mouse and keyboard.
Ultimate Mortal Kombat 3 Description
Mortal Kombat 3 is a game in the Mortal Kombat video game series, considered by some to be the fourth in the series. It is a remake of Mortal Kombat 3 and may be thought of as a sequel or a deluxe version, since it features more characters than the original Mortal Kombat 3. It may have been used as a precursor to Mortal Kombat Trilogy.
It had all the fighters from the first Mortal Kombat 3 game (Shang Tsung, Sindel, Jax, Kano, Liu Kang, Sonya Blade, Stryker, Smoke, Sub-Zero, Cyrax, Sektor, Nightwolf, Sheeva, Kung Lao, and Kabal) but it also brought back a couple of familiar characters. The Edenian warrior Kitana returned, along with Shang Tsung's clone, Mileena. Also, the hell-spawned spectre and younger Sub-Zero's guardian Scorpion shows up for this game. Reptile also manages to slither his way back into the fray.
The new additions to the roster included Jade (Kitana's friend & ally), the human version of Smoke, Ermac (who was originally a glitch in MK1), and the original Sub-Zero returns to the fray.
The story for Ultimate Mortal Kombat 3 basically follows the same story as Mortal Kombat 3, yet there were more battle sites were added and it helped develop the Mortal Kombat storyline even further.
Cheats/Hints/Walkthroughs for Ultimate Mortal Kombat 3
No posted cheats for this game yet.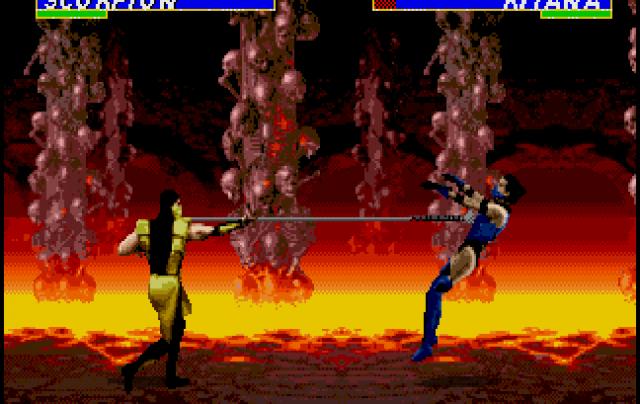 Ultimate Mortal Kombat 3 - additional information
Also known as
"UMK3" -- Common abbreviation