Magic Fairy Tales: Barbie As Rapunzel
No gamepads detected. Press a button on a gamepad to use it.
How to play Magic Fairy Tales: Barbie As Rapunzel
Each game uses different controls, Games can a combination of mouse,keyboard and Joystick.
Magic Fairy Tales: Barbie As Rapunzel Description
Magic Fairy Tales - Barbie As Rapunzel is an interactive storybook adventure in which the player helps Princess Barbie rescue Prince Galen.
Imprisoned in her tower by an evil witch, Princess Rapunzel grows up with only some birds and a magic mirror for company. One day Prince Galen rides by and asks for a drink of water. Rapunzel lets down her hair so that he can climb into her tower and the two become friends. The prince visits often and tells Rapunzel stories of his travels. However the witch finds out and puts a spell on the prince saying that he must wander for the rest of his days never being able to find his way back to any place he has visited before. Only a kiss from Rapunzel can break the spell but, because he's already been to the tower he can never return there. There's only one solution, Rapunzel cuts off her hair to make a rope, climbs down from her tower, and goes in search of the prince.
The story is told by the players fairy godmother Celinda's. Her garden forms the game's menu with hot-spots to start the game in play or story mode, another triggers the picture section where scenes from the story can be printed to be coloured in later and another allows the player to enter the story at any point.
The story is in the form of an animated book with short written passages that are read by the narrator, as the words are spoken the words are highlighted. This is then followed by a short animated sequence which carries the action on to the next chapter. The game can be played in two ways, one as a read-along book in which the puzzles can be skipped, the other as a storybook game. Typically Rapunzel must collect things to allow her to progress on her travels, these usually come in the form of rewards for either helping a character or for completing a puzzle. Apart from entering the players name at the beginning the game, in either mode of play, is entirely mouse controlled via big colourful icons on the left of the screen.
Cheats/Hints/Walkthroughs for Magic Fairy Tales: Barbie As Rapunzel
No posted cheats for this game yet.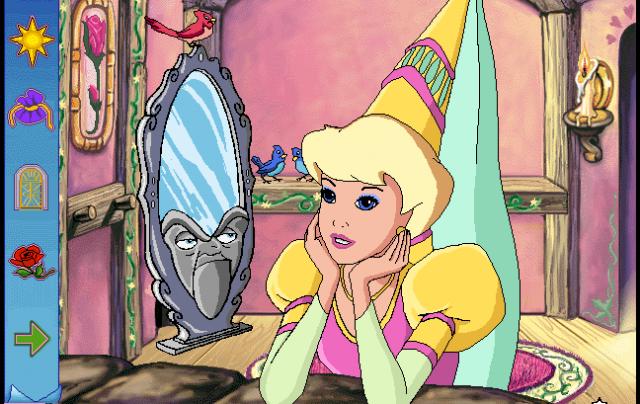 Magic Fairy Tales: Barbie As Rapunzel - additional information
Also known as
"Cuentos Mágicos: Barbie Rapunzel" -- Spanish title
"Contes de Fées Magique: Barbie Princesse" -- French title