Rodney's Funscreen
No gamepads detected. Press a button on a gamepad to use it.
How to play Rodney's Funscreen
Each game uses different controls, Games can have combination of mouse,keyboard and Joystick.
Rodney's Funscreen Description
Rodney's Funscreen is an early children's game designed by Rodney Greenblat, later responsible for the art in the Parappa the Rapper series. The game has five activities that can be accessed directly from the main menu. The aim of these mini-games is to teach preschool kids how to use the computer.
In Dinky's House, the child player has to click on the closed windows of the character's house, trying to find him behind the curtains. Clicking on the door icon shows the house interior, where clicking on furniture and other parts of the scenery shows an animation of Dinky doing something.
In Guess-o-Matic, the player has to find the drawing displayed at the bottom, by clicking on a series of cards with question marks.
In Barber Joe, the child can select from three head drawings of a boy called Joe, a girl named Jane and the dog Woof to paint over with the available drawing tools at the left side of the screen.
In Alphabeeps, the kid has to click on the first letter from the name of the object, animal or thing shown at the top of the screen. As a reward and incentive for correct answers, an animated monster gets closer to an object, hopping across the screen until finally reaching and interacting with it.
In Too Many Monsters, the top of the screen shows a group of monsters, and the child has to click on the corresponding number of them at the bottom.
Cheats/Hints/Walkthroughs for Rodney's Funscreen
No posted cheats for this game yet.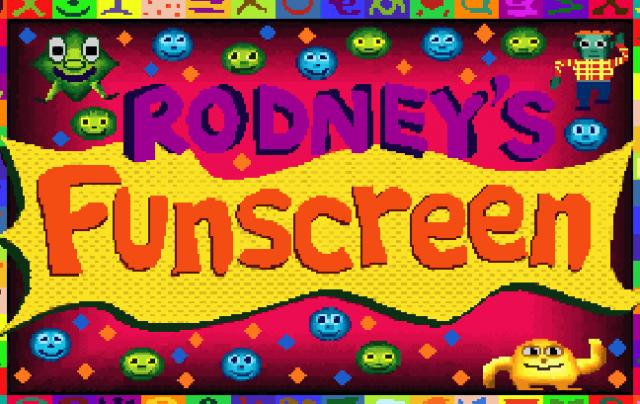 Rodney's Funscreen - additional information