Moraff's RingJongg v3.0
No gamepads detected. Press a button on a gamepad to use it.
How to play Moraff's RingJongg v3.0
Each game uses different controls, most Amiga games use both mouse and keyboard.
Moraff's RingJongg v3.0 Description
Title: Moraff's RingJongg, Version 3.0 - January, 1998
Keywords: WINDOWS 95 LOGIC SVGA MORAFF MORAFFWARE GAMES MAHJONGG 3D SOLITAIRE
Short Description: * MORAFFWARE * Best 3D Puzzle Game Yet! * Dazzling 3D graphics! *
Long Description: Moraff's RingJongg is like the smash-hit SphereJongg, but with donut
shaped pieces. Unlike other Jongg games where you play for a good score, you
play RingJongg to win! There is no penalty for reshuffling, so you can use
your skills to determine if a layout has a solution and quickly reshuffle
if it doesn't.
This great game has the following features:
1) Great 3D graphics, very easy to see the 3D rings! 16 million colors!
2) Save games in progress! Keeps statistics and high scores!
3) Smart menus remember your settings.
4) New popup menu frees the entire screen for mind-boggling graphics!
5) Full screen dazzling backgrounds and inlayed wood backgrounds!
6) Fast keys, easy menus, user friendly, sets a new standard!
7) Almost an hour of excellent music, or import your own midi music files!
8) Full sound effects and voices!
9) Real 32-bit Windows '95 Support!
Also look for the other NINETEEN brand new dazzling MoraffWare games!
Author: MoraffWare, Steve Moraff
Registration: Varies
Hardware Requirements: Pentium or fast 486, sound card, 8 megs RAM
Color Support: 16 million colors, with support for High-Color 16-bit and 256 colors.
Other Requirements: Windows '95 or NT (tm)
Cheats/Hints/Walkthroughs for Moraff's RingJongg v3.0
No posted cheats for this game yet.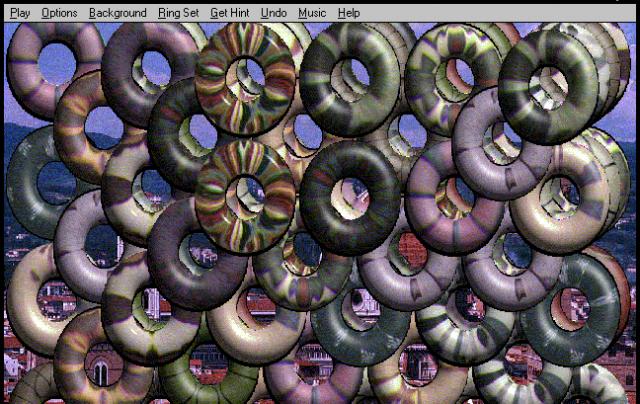 Moraff's RingJongg v3.0 - additional information