Indianapolis 500: The Simulation
No gamepads detected. Press a button on a gamepad to use it.
How to play Indianapolis 500: The Simulation
Each game uses different controls, Games can a combination of mouse,keyboard and Joystick.
Indianapolis 500: The Simulation Description
The famous Indianapolis 500 Mile race, held annually at the Indianapolis Motor Speedway on the Memorial Day weekend, is one of the most famous automobile racing events in North America. The event is simulated here using 3D polygon graphics to recreate the 33 cars in the race. Players are able to choose their car and customize it with a variety of options. Modifications include wing down-force, tire pressures, wheel stagger (making the right-side wheels larger, to compensate for the banked corners) and turbo output (which provides boost, but stresses the engine and uses more fuel).
After qualifying (by performing during four laps and taking the average) players can race over 10, 30, 60 or the full 200 laps. Lower modes remove car damage and the 'full-course yellow' system, the absence of these can make for repeat carnage including traffic collisions and huge pile-ups.
The Amiga version was identical to the MS-DOS version except in minor details. For example, an error in programming resulted in there being two cars numbered 20; in the MS-DOS version, one of these was numbered 12, correctly reflecting the 1989 Indianapolis 500 grid. Certain minor bugs were removed: in the MS-DOS version, for example, making slight contact with a retired car in the pit-lane resulted in it moving sideways at a slow pace, through other cars, walls and other solid objects, and eventually "wrapping round" and appearing again from the opposite side. However, occasional errors, such as fast cars "passing through" much slower cars without harm, and one's own car briefly locking on to others if slight contact was made, remained.
One instant replay could be saved to disk, as could up to three car settings. However, partly completed races could not be saved. Car control was via mouse, joystick or keyboard; mouse gave a particularly smooth, natural driving feel, and mouse sensitivity could be customised from the main menu.
Replays were only available to those lucky enough to have the optional 512KB ram upgrade installed (normally, Commodore's own "A501").
Cheats/Hints/Walkthroughs for Indianapolis 500: The Simulation
No posted cheats for this game yet.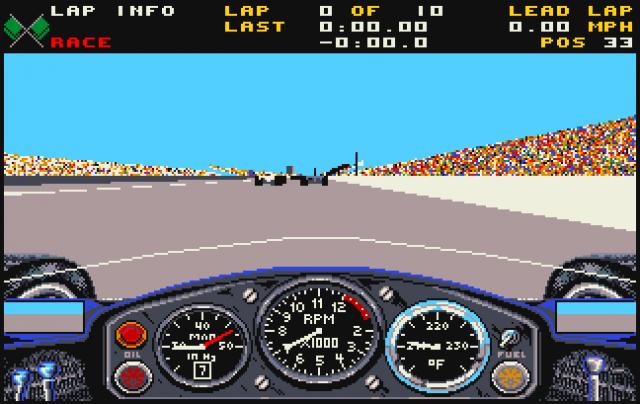 Indianapolis 500: The Simulation - additional information
Also known as
"Indy 500" -- Informal name