Zaxxon
No gamepads detected. Press a button on a gamepad to use it.
ColecoVision is mapped to use the number keypad on a full keyboard. If you don't have access to a keypad, you can press the TAB key and there is a menu that has options to change settings including remapping the keys. The default key mapping is in the chart bellow:
How to play Zaxxon
Each game uses different controls, Games can a combination of mouse,keyboard and Joystick.
Zaxxon Description
A popular game, Zaxxon was ported to almost all home computer and video game console systems between 1982 and 1985. Among them were MS-DOS (as a booter), Amiga 1000, Apple II, Atari 400/800, Atari 2600, Atari 5200, Atari XL, MSX, ZX Spectrum, Commodore 64, Dragon 32, ColecoVision, Intellivision, Sega SG-1000 and TRS-80 Color Computer.
The Atari 2600 and Intellivision ports were noticeably different because they used a 3rd person, behind the ship 3D perspective instead of the isometric graphics of the other versions. This is probably due to technical limitations of these consoles. The ColecoVision version, designed by Coleco staffer Lawrence Schick, was the first home version to use the isometric graphics.
In 1983 Coleco released a table top version of Zaxxon with a double panel VFD screen. Bandai released 2 Zaxxon handhelds: one VFD table top for the European and Japanese market, and an LCD card game sold worldwide.
Cheats/Hints/Walkthroughs for Zaxxon
No posted cheats for this game yet.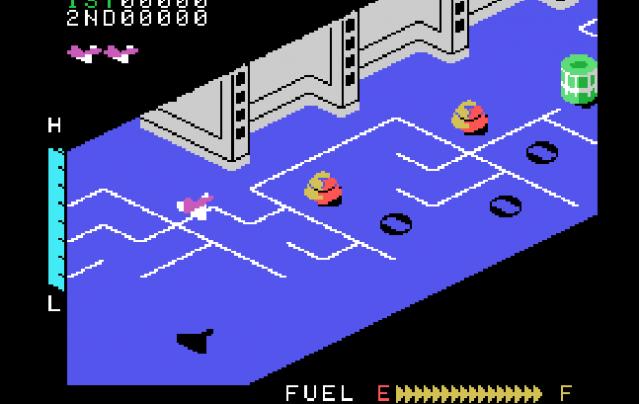 Zaxxon - additional information