Beyond Castle Wolfenstein
No gamepads detected. Press a button on a gamepad to use it.
How to play Beyond Castle Wolfenstein
Use keyboard, keys a,d,w,x to move. use the L key to shoot.
Beyond Castle Wolfenstein Description
Like its predecessor, Beyond Castle Wolfenstein is a combination action and adventure game. It is set in World War II during Adolf Hitler's rule as Chancellor of Germany. The objective of the game is to traverse all the levels of the secret Berlin bunker where the Führer is holding secret meetings with his senior staff. The player must retrieve a bomb that the operatives have placed inside the bunker and place it outside the door of the room where Hitler is holding his meeting, a scenario bearing a passing resemblance to the July 20 Plot.
The game features a top-down view of each room on the level, though the characters are seen upright like in a side-scroller. The player tries to traverse the levels by sneaking by, impersonating and sometimes killing opponents. The game is controlled via a joystick, paddles, or the keyboard. The player successfully completes the game after planting the bomb and escaping the bunker before it explodes.
The game is similar to its predecessor, but features a number of game play updates. The guards now use a pass system, in which the player is periodically summoned by guards and asked to show the correct pass (which varies by floor), or offer a bribe. If an incorrect pass is shown or the bribe is rejected due to the lack of money (for a total of 2 times), the guard will attempt to activate a bunker-wide alarm or kill the player.
The highly explosive grenades of the previous game have been replaced with a dagger, which can be used to silently kill guards instead of attracting attention with gunfire.
Additionally, the audio system includes an increased vocabulary and greater variety of sound effects.
Upon successful completion of the game, the player is rewarded with a high resolution graphic of the bunker exploding in the background, with the player running away in the foreground.
Cheats/Hints/Walkthroughs for Beyond Castle Wolfenstein
No posted cheats for this game yet.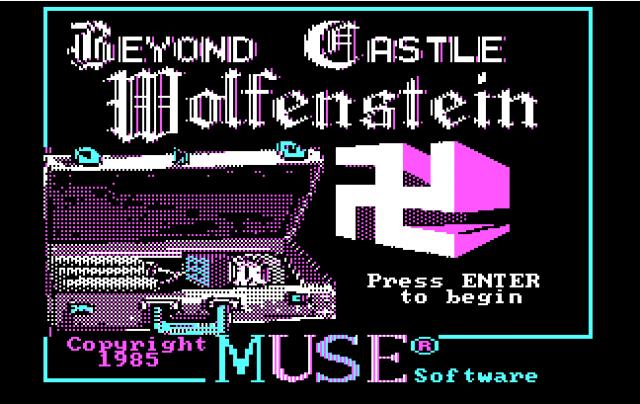 Beyond Castle Wolfenstein - additional information
Also known as
"Beyond Castle Wolfenstein: "Stop the Fuehrer"" -- Tag-lined title
"A sequel to Castle Wolfenstein" -- Subtitle