Microsoft Adventure
No gamepads detected. Press a button on a gamepad to use it.
How to play Microsoft Adventure
Each game uses different controls, Games can a combination of mouse,keyboard and Joystick.
Microsoft Adventure Description
Colossal Cave Adventure (also known as ADVENT, Colossal Cave, or Adventure)gave its name to the computer adventure game genre. It was originally designed by Will Crowther, a programmer and caving enthusiast who based the layout on part of the Mammoth Cave system in Kentucky.
The version that is best known today was the result of a collaboration with Don Woods, a graduate student who discovered the game on a computer at Stanford University and made significant expansions and improvements, with Crowther's blessing. A big fan of Tolkien, he introduced additional fantasy elements, such as elves and a troll.
Many versions of Colossal Cave have been released, generally titled simply Adventure, or adding a tag of some sort to the original name (e.g. Adventure II, Adventure 550, Adventure4+, ...). Large value numeric tags denoted the maximum score a player can achieve after playing a perfect game. Hence, Crowther/Woods Adventure, the first with a point scoring system, is also synonymous with Adventure 350.
Microsoft released a version of Adventure in 1981 with its initial version of MS-DOS 1.0 as a launch title for the IBM PC, making it the first game available for the new computer. It was released on a single-sided 5¼ inch disk, required 32K RAM, and booted directly from the disk; it could not be opened from DOS. Microsoft's Adventure contained 130 rooms, 15 treasures, 40 useful objects and 12 problems to be solved. The progress of two games could be saved on a diskette.
Cheats/Hints/Walkthroughs for Microsoft Adventure
No posted cheats for this game yet.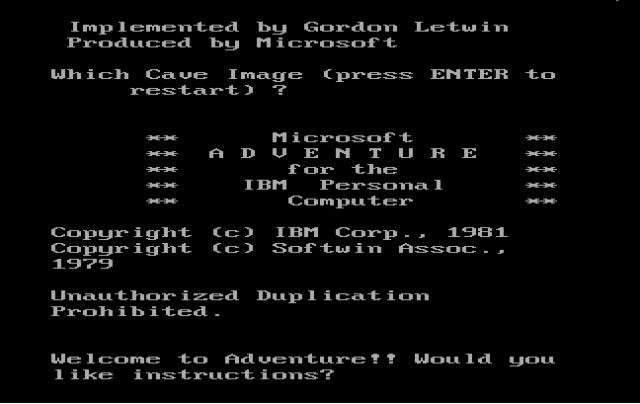 Microsoft Adventure - additional information