Monster Bash: Part 3
No gamepads detected. Press a button on a gamepad to use it.
How to play Monster Bash: Part 3
Each game uses different controls, most Amiga games use both mouse and keyboard.
Monster Bash: Part 3 Description
Johnny must work his way through several horror-themed levels armed with his slingshot. In each level, the player has to break the locks of the pets' cages in order to free them. The player cannot complete the level until all pets are freed. The game follows a typical platform game style, where the player must fight boss monsters at the end of each episode to be able to complete it and advance to the next one.
The first episode has 10 levels, and the other two have 9 levels each, for a total of 28 levels on all three episodes. This includes a single boss level in each episode and a Miniboss. When the player enters a new level, Johnny's health is replenished, and any powerups acquired in the previous level are removed. The player has 10 slots per episode to save games, and restoring a saved game returns the player to the beginning of the level.
During one level in the third episode Johnny gains the use of a captured broomstick. In the course of this level the player activates the broomstick to navigate the level, offering a more arcade-style of gameplay.
The player comes across various inanimate objects which they must interact with in order to complete the level. These include furniture that springs Johnny into the air, deployable ladders and flying broomsticks. One feature rarely found in games since is the ability to access hints (F10 key) from the game developers specific to the level that is being played. The hints are effective as a rudimentary walkthrough as well as a tutorial for players to whom the gameplay may be unfamiliar.
In the next to the last screen of the 1st episode (shareware vs.), Johnny has to jump from one light socket to the next to get to the exit door. Missing and having to do the whole sequence all over again gets tiresome. Apparently there were complaints, as the purchase version of episode 1 has eliminated the problem by providing 2 (two) adjacent light sockets, thus making it much easier for Johnny to finish the level. The dragon was moved in the first stone cave screen.
Cheats/Hints/Walkthroughs for Monster Bash: Part 3
No posted cheats for this game yet.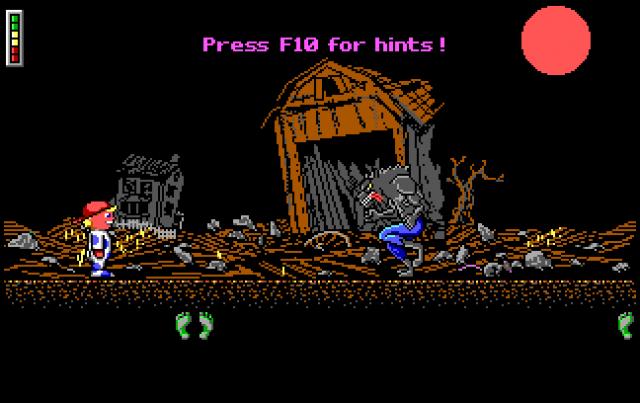 Monster Bash: Part 3 - additional information