Hollywood Hijinx
No gamepads detected. Plug in and press a button to use it.
Ready
If using USB Joystick/Gamepad, you can plug the controller in the USB port once the game is loaded for best results.
How to play Hollywood Hijinx
Each game uses different controls, most Amiga games use both mouse and keyboard.
Hollywood Hijinx Description
Hollywood Hijinx is an interactive fiction computer game written by "Hollywood" Dave Anderson and published by Infocom in 1986. Implemented using Infocom's Z-Machine, the game was released over a wide variety of platforms, including the Apple II and Commodore 64.
Buddy Burbank was a genuine Hollywood success story. Not content to be a B-movie actor, he fought his way to the top, started his own studio and became one of Tinseltown's most acclaimed and prolific directors! Well, at least that's how Uncle Buddy would have told it. Actually, he married wealthy former debutante Hildegarde Montague, whose trust fund enabled Buddy to open a studio. His movies earned a lot of money but very little critical regard... but he did manage to crank out more than 600 "masterpieces" before dying of a heart attack several years ago. Who can forget such classics as Attack of the Killer Rutabagas, It Came from the Neighbor's House, or Meltdown on Elm Street? Now dear Aunt Hildy has passed on as well, and the player's character learns the terms of their rather unusual will.
As the favorite among all of Buddy and Hildy's nephews and nieces, the player's character stands to inherit the entirety of the Burbank estate, including their palatial home Hildebud. But only if the player can find the ten treasures (props from Buddy's films) that crafty Aunt Hildegarde has hidden on the grounds, that is. Oh, and it all has to be done in the space of one night.
Template:Spoiler Hildebud is filled with props, posters, and other memorabilia from Buddy's numerous films: a model of Tokyo complete with Atomic Chihuahua, the Maltese Finch, and a statue of "Buck Palace, the Fighting Mailman" (star of such films as Postage Due and Special Delivery). Adding to the atmosphere are hidden passages, a convoluted hedge maze, and other bizarre features of the estate. Those strange noises that sound like someone else is in the house— are they just gimmicks too?
Cheats/Hints/Walkthroughs for Hollywood Hijinx
No posted cheats for this game yet.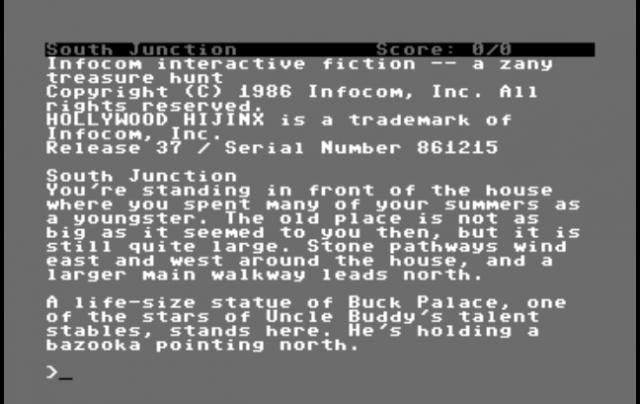 Hollywood Hijinx - additional information