Microprose Soccer
No gamepads detected. Plug in and press a button to use it.
Ready
If using USB Joystick/Gamepad, you can plug the controller in the USB port once the game is loaded for best results.
How to play Microprose Soccer
Each game uses different controls, most Amiga games use both mouse and keyboard.
Microprose Soccer Description
Microprose Soccer is a soccer videogame published by Microprose in 1989. The original Commodore 64 version was developed by Sensible Software, with conversions carried out to other formats. It is the fore-runner of the 16-bit classic Sensible Soccer.
The game can simulate a full 11-a-side game of football on a grass pitch, or 6-a-side soccer, based on the American indoor league of the time.
A single player can work through a World Cup (or Indoor League) tournament, or take on a series of increasingly tougher computer teams. A two-player friendly can be played head to head.
The control method was designed to be as simple as possible, lending itself to fast and flowing football (in the manner of the later Sensible Soccer). A quick tap of the fire button passed forward, a longer hold of the button chipped the ball at height. Pushing backwards and fire did an overhead kick. Pushing forwards and fire took a shot.
Most unusual was the "banana kick", the strength of which could be varied among three settings in the options menu. By pushing diagonally as a shot was taken, the ball would swerve in the air to get round defenders and goalkeeper Rival game Kick Off would also add this after-touch feature.
Most versions featured a simulated "action replay" after a goal was scored, with the C64 version featuring black & white stripes to resemble a video rewinding.
Cheats/Hints/Walkthroughs for Microprose Soccer
No posted cheats for this game yet.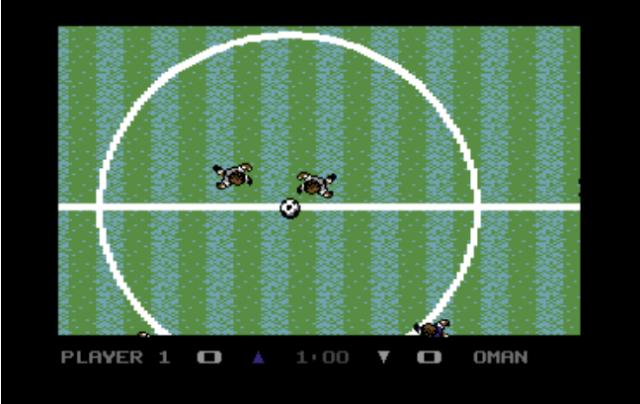 Microprose Soccer - additional information
Also known as
Keith Van Eron's Pro Soccer
Microprose Pro Soccer
"MicroProse Soccer" -- European title