Armaëth: The Lost Kingdom
No gamepads detected. Press a button on a gamepad to use it.
How to play Armaëth: The Lost Kingdom
Each game uses different controls, most Amiga games use both mouse and keyboard.
Armaëth: The Lost Kingdom Description
In ancient times, the dwarven kingdom Dol Armaëth was overrun by evil forces, but the wise king Armaëth managed to drive them out. Unfortunately, evil came back after Armaëth's death and the kingdom was forgotten. The player aids the treasure hunter Killian in his search for Dol Armaëth.
The game consists of various areas which are visited in a linear order. Each area consists of a multitude of screens that can be freely explored while collecting items, conversing with other persons (who also move through the area) and solving puzzles in order to progress. They mostly consist of using items on other items or persons, but there is also the occasional maze and action sequence (Killian has to perform an action while dodging enemies). When Killian dies, he can be resurrected, but loses all collected items in the process.
The game's specialty is its inclusion of two separate control options: The player can either move Killian with the keyboard and type commands into the parser or use a point & click interface. Then the icons are chosen from a bar on the top, but because there are various different icons (besides the usual ones like take or look there are also icons for more obscure actions like kissing or eating and operational actions like saving the game), the player has to click through three separate bars. It is also possible to combine the two control methods.
Cheats/Hints/Walkthroughs for Armaëth: The Lost Kingdom
No posted cheats for this game yet.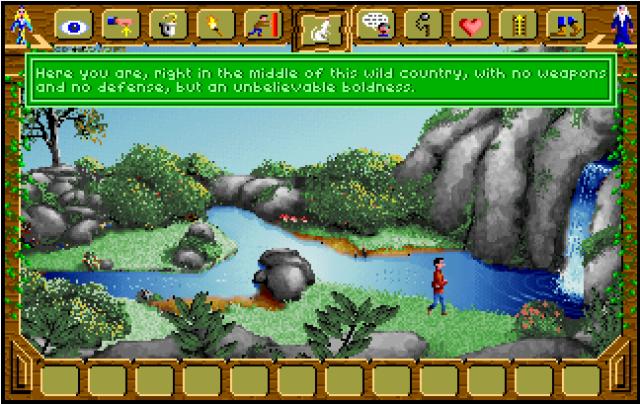 Armaëth: The Lost Kingdom - additional information
Also known as
"Armaeth: The Lost Kingdom" -- Alternate spelling