ESWAT: City under Siege
No gamepads detected. Press a button on a gamepad to use it.
How to play ESWAT: City under Siege
Each game uses different controls, most Amiga games use both mouse and keyboard.
ESWAT: City under Siege Description
ESWAT: City Under Siege, as known in the West and in Japan as ESWAT: Cyber Police is a 1990 side scrolling platform video game for the Sega Mega Drive/Sega Genesis video game console.
Based on the arcade game ESWAT: Cyber Police which had come a year earlier, in 1989. The console game maintains its main characters, plot and some of its enemies from the arcade game, but features some different levels, weapons, and bonuses.
The game is a sidescrolling platformer similar to Shinobi, set in the near future, where the player controls a blonde police officer named Duke Oda (デューク・オダ?) who over a series of levels turns into the cyborg ESWAT. At first, as a rookie member of the Cyber Police force in the city of Liberty, your job is to clean the streets of the crime wave overwhelming it, and also terminate the most wanted criminals. In the first and second levels of the game, the vulnerable and completely human Duke Oda can only utilize a single shot weapon.
However a mysterious and high-tech organization named "E.V.E." quickly threatens to take over the entire city, and after being promoted at the end of the second level, Duke Oda is given power armor called the "Ice Combat Suit". With the ICE Combat Suit, the player can use new and more lethal weapons such as Super Shot, Plasma Rifle, Rockets, and a devastating Fire Attack, and also a jet pack to fly or hover with limited fuel that replenishes over time. The final boss of the game, the leader of E.V.E., is revealed to be an artificially intelligent robot which is attempting to replicate its own ICE Combat Suits to take over Liberty.
Cheats/Hints/Walkthroughs for ESWAT: City under Siege
No posted cheats for this game yet.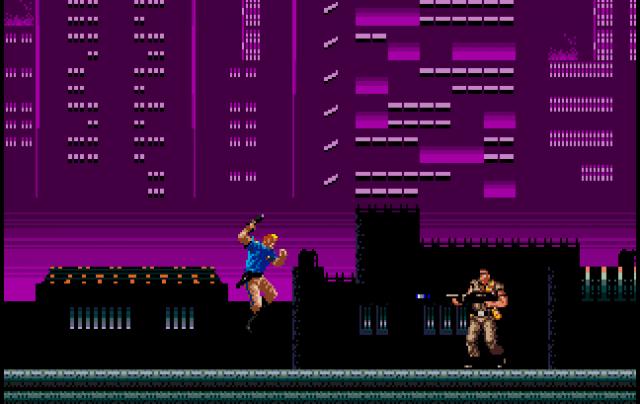 ESWAT: City under Siege - additional information
Also known as
"Cyber Police ESWAT" -- Japanese title
"サイバーポリス イースワット" -- Japanese spelling
"E-SWAT: City Under Siege" - Alternate Western Title
"Elite Special Weapons And Tactics" - ZX Spectrum in-game title