Sword of Vermilion
No gamepads detected. Press a button on a gamepad to use it.
How to play Sword of Vermilion
Each game uses different controls, most Amiga games use both mouse and keyboard.
Sword of Vermilion Description
Sword of Vermilion is a role playing game developed and published by SEGA in 1990 for the Mega Drive/Genesis. It is the first console-exclusive game designed by Yu Suzuki.
Sword of Vermilion is about the role of Erik's son, who takes on a quest of revenge defeat Tsarkon and free the world of Vermilion from evil.
In the town of Excalabria the people went about their business, and tended to the fields. One day, vicious fighting broke out everywhere as the army from Cartahena, led by the wizard-king Tsarkon, swarmed all over the town. The townsmen were overwhelmed. The castle of King Erik V collapsed. Summoning his bravest, strongest and most faithful warrior, Blade. He gave his infant son and an ancient family heirloom, the ring of wisdom, to Blade. He ordered Blade to save himself and the child while the castle burned. Blade traveled to a small village named Wyclif, where he settled down and raised the child as his own son. Eighteen years later, the son of Erik begins his quest.
The Sword of Vermilion becomes the most powerful weapon at the end of the game. Erik's son saves the world of Vermilion and fulfills the prophecy of the Malaga fortune tellers.
Gameplay
The gameplay would feature different views and play style to break away from the more traditional RPGs at the time.
The Town View would utilize the typical overhead angle found in most RPGs.
The Battle View would be a tilt overhead view where the player takes full control of the character in real-time combat action. You can use your weapons and magic. There is nothing menu based.
The Dungeon View would be in a first person perspective where you walk in and out of corridors maze. The view was likely an influence by Phantasy Star or Dragon Quest.
The Boss View puts you up against a boss resembling a platform game.
Cheats/Hints/Walkthroughs for Sword of Vermilion
No posted cheats for this game yet.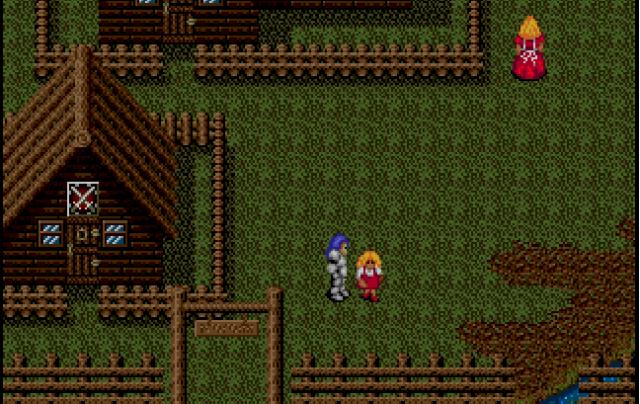 Sword of Vermilion - additional information
Also known as
"Vermilion" -- Japanese title
"ヴァーミリオン" -- Japanese spelling